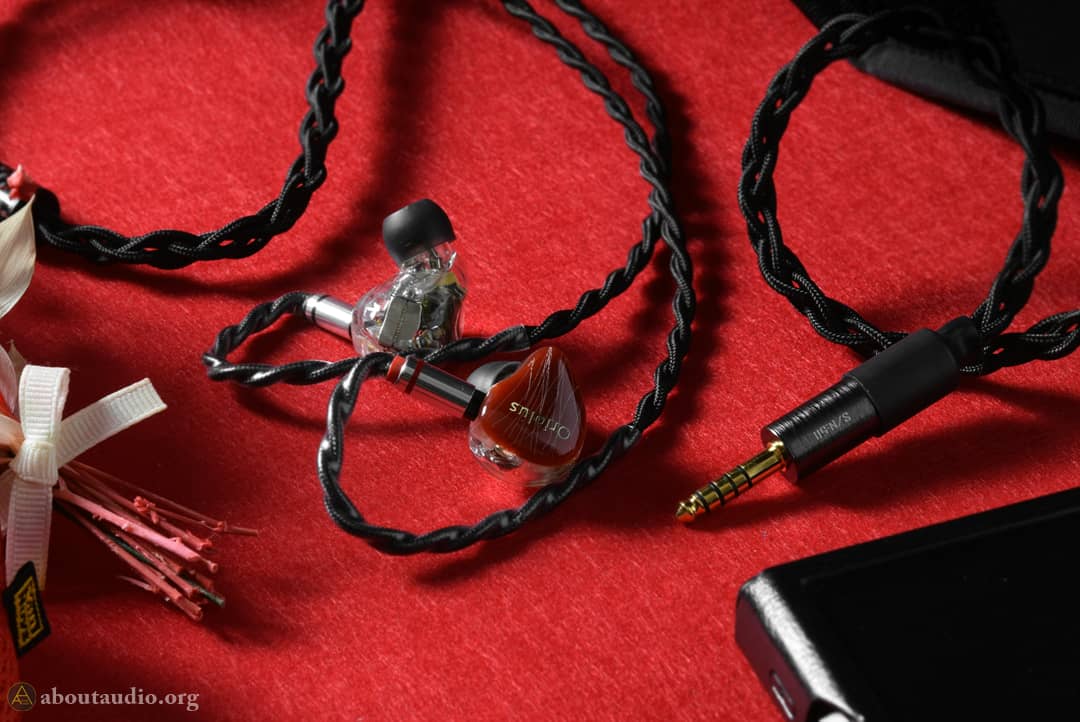 Oriolus Traillii Review – Absolute stunner
It is no surprise that the portable audio game is nowadays running to the extreme. The middle-priced products are making lesser appearance polarizing the price tag to either end of the spectrum, going completely affordable or completely premium. Well, our good old Oriolus had to get their ultimate flagship rolling out, featuring Oriolus Traillii. 
Since Oriolus is a brand created upon the collaboration of CN and JP, until now most of their products have been divided into two variants, each being called CN version and JP version. The difference between these two versions was mainly found from the cable, as the JP version was usually equipped with a PW audio cable which also brought some price increase. Though this time, Oriolus has decided to release Traillii as the JP version only.
So how much does this product cost? Traillii is retailed for $6000, which is not only the most expensive product ever released from Oriolus but also one of the most expensivest earphone that exists to this date. This price is more than twice their previous flagship IEMs, which I would now like to lead to a question: is it worth it? Let us find that out.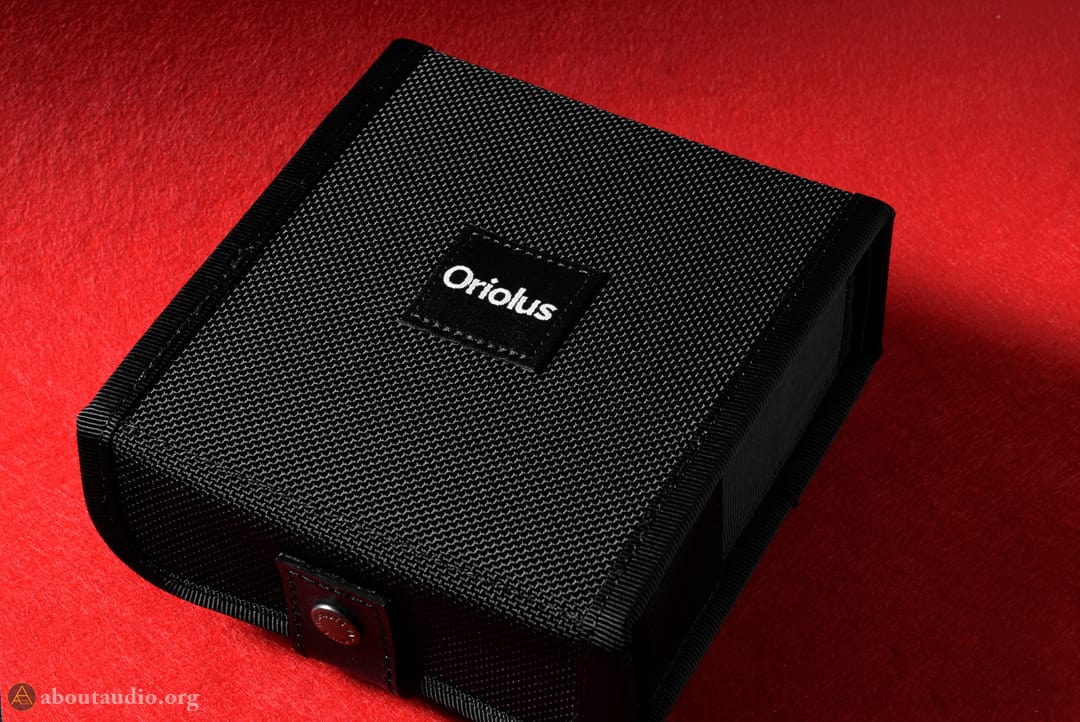 Packaging
Traillii comes in a simple if simple, solid if solid packaging. Other than the earphone, it includes a Van Nuys earphone case, Van Nuys earpiece divider, silicone eartips, and a cleaning tool. This sturdy case is large enough to store thicker custom cables and comes in very handy in usage. Along with that, the included IEM divider protects the earpieces from rolling around or bumping into each other. Barely any finesse has been done with the box but the included accessories are equipped with the highest quality. That is surely an aspect where I could detect the Japanese spirit.
Earpieces
The shape of the earpiece is very similar to one of their previous flagship models, Oriolus Mellianus, but actually a bit smaller and rounder in shape. The nozzles are rather a bit short and thick, but the dimensions are pretty much the same as other Oriolus IEMs and the fit is actually better with this one, so no need to worry about bumping into a fitting issue. Traillii is comprised of Sonion 8BA+4EST drivers which are distinguished apart from Oriolus Percivali which uses a DD+BA+EST combination. Oriolus has claimed that creating each earpiece is very challenging and often ends up to a faulty production as they have to house 12 drivers into an even smaller shell, also including two large voltage converter for the EST drivers.
Anywho, the nozzles are divided into 4 bores, each connecting the lows/mids/highs/tweeters. The bore for the lows is metal-tubed with the tweeter bores drilled to have a large semicircular shape. For the design, Traillii has a transparent body with an opaque crimson red faceplate highlighted with white fiber strands. Grading the design would be more up to personal preference, though I quite like the looks on these.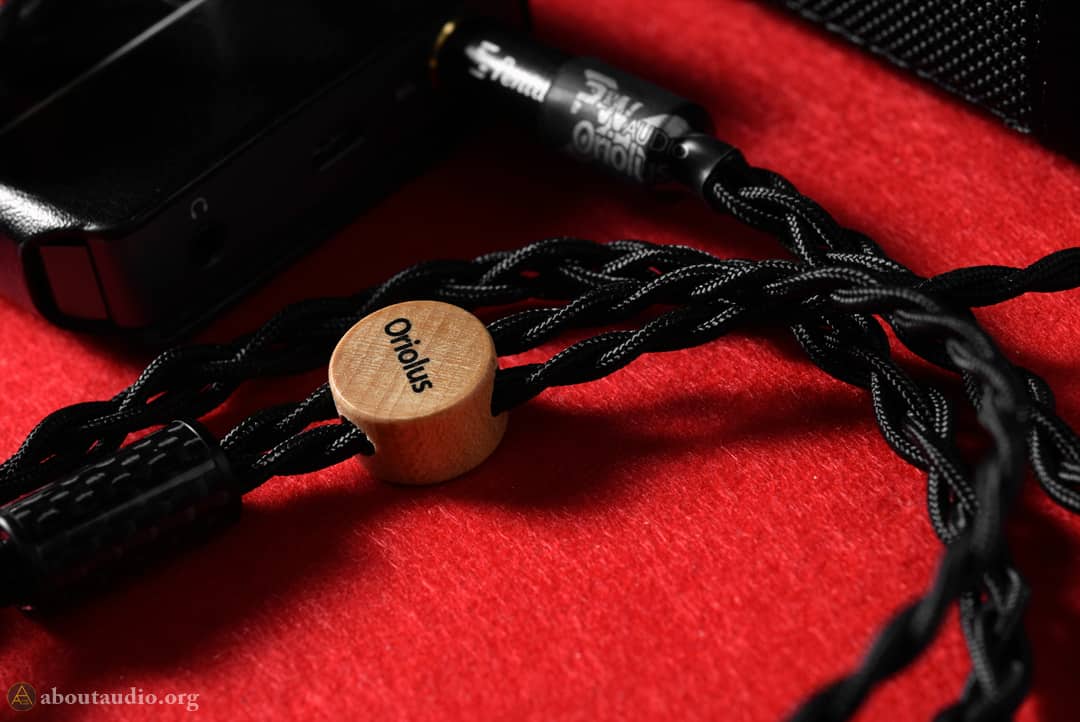 Cable
Believe it or leave it, a cable plays a major role in sound quality and an endgame earphone like this sure deserves an endgame cable. That is why Traillii is followed with HYLA's flagship cable Arthur RT-1 as the stock cable. Arthur RT-1 is an ultra high-purity OCC copper cable applied with additional shielding, planned by HYLA and produced by PW Audio.
The cable alone retails for roughly $2200, so you are getting the best of the best option as default without the need to seek for another cable. I suppose that makes the price sound lesser insane, at least some degree. It is also worth mentioning that the Arthur RT-1 cable used to be available in 3.5mm unbalanced only when purchased separately, but upon purchasing Traillii you get to decide the termination of your choice, varying between 2.5mm/3.5mm/4.4mm. Another interesting fact is that "Traillii" is the name that refers to this set of a combo, including both the earpieces and the cable.
So again, no CN version or any "cable-excluding" variants. This might come along to be a piece of sad news for some, though the more I test the stock cable and compare with other cables, the more I understood why they had to go for this cable. I own several other cables that are just as expensive as this, but none of them would bloom the sound beautifully and appropriately as Arthur RT-1 did. We will be covering detailed sound impression in the latter part of the review, but I suggest to maintain this original combo if you wish to enjoy the unique tone and reverbs that Traillii create.
Sound impressions – Lows
Although there is a good amount of full-BA IEMs with stellar bass reproduction, it still leaves me doubted about the bass performance when a company releases a full BA IEM. I was prepared not to be surprised and embraced with high expectations since the extreme price, I couldn't help but be amazed by the bass quality – the bass quality is too good on these. Traillii takes full advantage of controlling the tension and dynamics of the bass. Lows dive deep in a virtuous manner, making a calm and weighty punch that follows up with a fast and snappy decay. The extension and depth of the bass are outstanding – the bass drop nearly rings to the heart, which is not an exaggeration. 
Lows are packed full of density and bass details as if an on-ear headphone has been pressurized into an earphone size at least. The bass lines are clear and highly thick in both size and concentration. The bass rumbles are clean, clear, and expansive. Perhaps the size of the bass exceeds the earpiece size, filling the lower end of the headroom with a full of dark bass presence and a pinch of reverbs. Just before letting any bassheads get hyped, I must note that Traillii is not a bass machine. Although these rumbles are deep, dark, and meaty, the bass punches are brought very calmly, softly, and precisely controlled in quantity.
Traillii focuses more on the latent energy of the bass rather than bursting it out in the face, having the sound to keep its posture and dignity. Along with that, Traillii seems to be paying much attention to keeping the atmosphere free of any stuffiness or overwhelming bass reverbs – which means that while the basslines and the imaging are massive, the slam of the bass is not exceptionally strong. Of course, the music does not sound light in bass as the depth and thickness are very plentiful and should be more than enough to satisfy most users.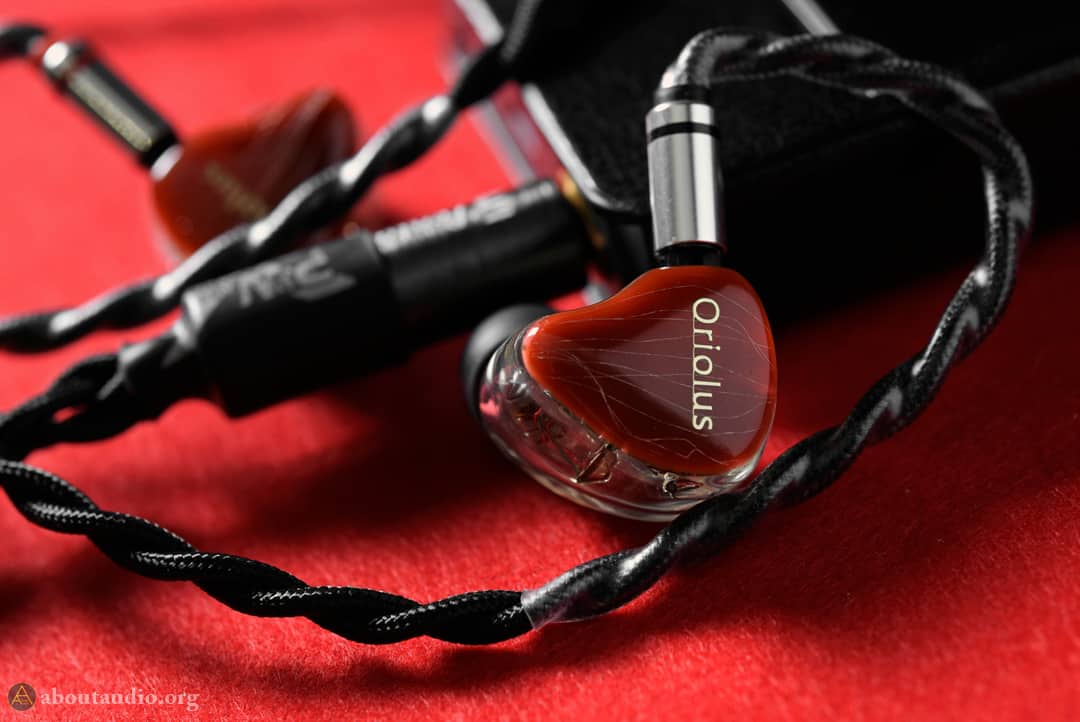 Sound impressions – Mids
If the bass was already impressive, Mids are where you feel the true power of Traillii starts to shine. The imaging size for the vocal is massive, possibly one of the largest that in-ear monitors could produce to this date. Not swollen or loosen to sound bigger, but feels large in its original, unaltered state. Mids are up-close with blissful finesse on top with the outstanding texture and layering details. Mellianus is well known for its richness and beautifully articulated layerings, but Traillii takes them to another level, escalating the liveliness of the sound, near to a real-life level. Both male and female vocals perform equally well as they are.
Though I must mention that Traillii would open up its full potential once played with complicated tracks – so this "Traillii effect" would not be much effective on simple sounding tracks, such as solo ballad tracks. Possibly one of the very few cons Traillii would have, but this is something I would point out only if I have to insist on calling out a drawback. Other than that, the vocals are near flawless and show perfect stability throughout the range without any noticeable spikes and dips. Vocals would gradually spread its liveliness and openness even further as it approaches the upper mids. The sibilance area is smoothly finished and delivers a crispy bite instead of fatigues, allowing the listener to solely focus on the rich layerings.
The tone feels fresh and vivid but within the boundaries of keeping the sound natural and organic. The lower mids show a bit of a husky tone that is driven with force and power, which is another element that well mimics what a real-life human voice would sound like. Traillii is full of splendor, but it is done in a very natural and realistic manner that somewhat leaves you with a captivating "unconscious" impression – a kind of experience where you may think Traillii does not sound as stunning as expected, but then you get rear blasted once you go back using your old IEMs, finding them to be sounding boring or condensed.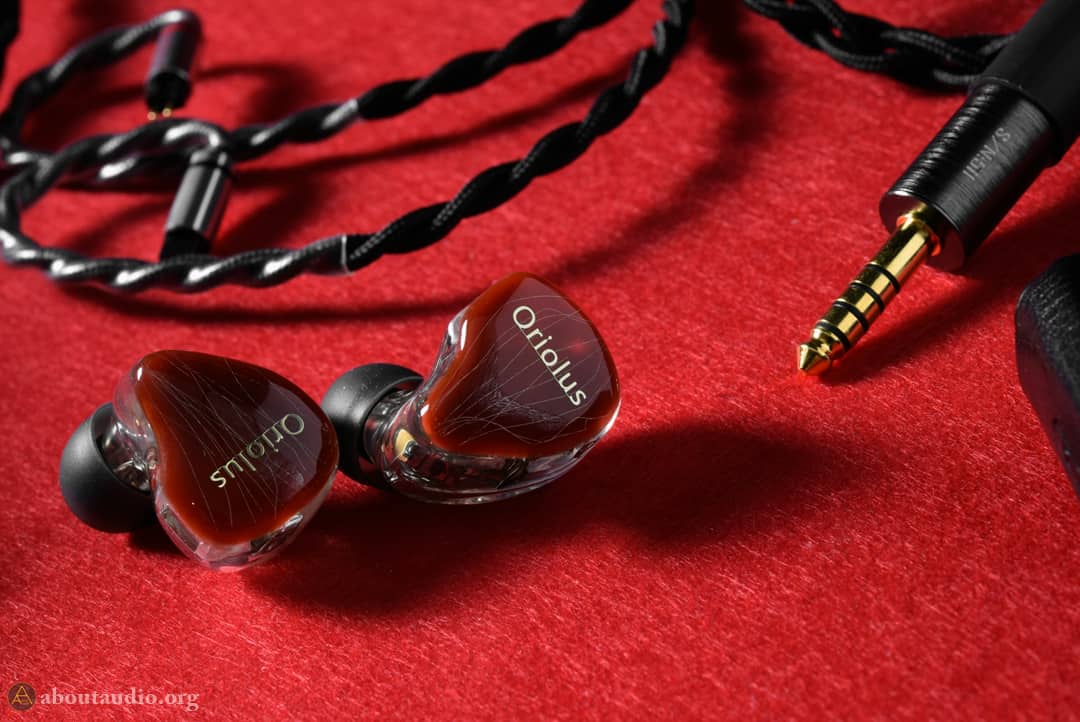 Sound impressions – Highs, etc.
This is the part where EST drivers really kick in. Highs are full of air and the sparkling textures approach in a careful, soft manner. Its presence is just as vivid as other frequency ranges. But of course, it never gets overwhelming or breaks the harmony. The opened-up atmosphere powered by the airy trebles, the massive basslines, and the large vocal imaging. Pairing these three all together maximizes the staging and the headroom to a truly extensive level.  
Speaking of treble, let us go for another short comparison between Traillii and the other two flagships from Oriolus – Mellianus and Percivalli. Incorporating Mellianus's splendid signature as the base sound, Traillii matured its EST performance once again beyond Percivalli. Highs are significantly more detailed with an up-lifting and fluffy presentation. While Percivalli had more of a straight-forward attitude in direction, Traillii is a lot more adaptable while having an even better resolution. Having enough rigidity to deliver sufficient crispiness, Traillii allows the treble to be flexible as demanded by different kinds of tracks. This makes the rigidity rather closer to Mellianus than Percivalli, but Traillii still provides a stronger impact/slam on the trebles whatsoever.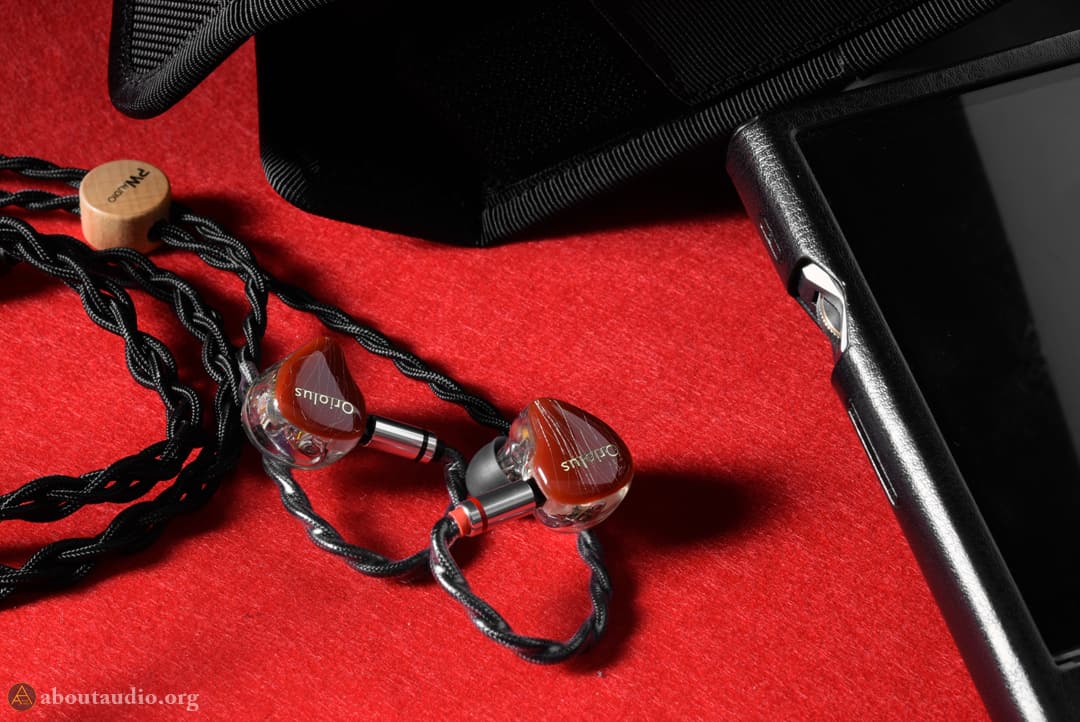 Verdicts
Traillii truly presents a monstrous sound and performance, but I still would not call it perfect. Not only the performance leap gradually decreases as you climb up the price range, but an eye-popping price tag of $6000 is more than enough to cross one's psychological "line of defense" for justifying the price. In fact, this psychological state greatly impacts the way how someone actually perceives the sound. It is a matter of answering the question of "can I accept this price to enjoy this level of sound", so if you are listening to this IEM with the pre-decision that you cannot/would not buy, there is a good chance of falling into a pit of bias. Even though I was used to dealing with flagship IEMs, the $6000 price tag has been bothering my listening session to be unbiased which I eventually got over it after a lengthy listening session and experience Traillii "as it is".
There is no doubt to call this an eye-opening experience in terms of sound. I remember someone commenting on Traillii for it to be sounding like Nerva-X, Percivali, and Mellianus combined all together. As someone who extensively listened to Percivalli and as an owner of Nerva-X and Mellianus, I do agree with that statement. If you are ready to spend some serious money and looking for one of the best earphones money could buy or for the ultimate Oriolus sound, Traillii is the one.
Oriolus Traillii has been acquired by myself.
I am not affiliated with Oriolus and none of my words were modded or asked to be changed. 
Pros
Endgame performance
Gigantic staging
Compact housing for the spec
Included with a flagship cable as default
Quality accessories (case/earpiece holder)
Cons
Sky-rocketing retail price
Must be purchased with a dedicated flagship cable