IKKO Musikv OH-7 Review: Grandeur
What goes around comes around. Multi-BA and Electrostatic drivers are the hottest trends when it comes to IEMs, but what is getting hot as much as that is are 1DD, single dynamic drivers. Ikko, as a new kid on the block, started off the brand good with their Meteorite OH-1, and I literally mean meteorite because Ikko came in with a huge bang thanks to its sensational performance and build quality for such affordable price. Since then, Ikko speeded up on presenting new products, such as Obsidian OH-10 which is an upgraded version of the previous IEM, a portable DAC,  a Bluetooth neckband cable, an attachable smartphone DAC, and so on.
So far these were mostly closer to budget-friendly, smartphone-friendly gadgets (with quality, of course), but what about a product that is done in full force to achieve ultimate quality and performance?  Living up to the demands, Ikko recently announced their first-ever flagship IEM, Musickv OH-7. Creating their flagship IEM sure lives up to our demands, but will it also do for our expectations? Let us find out the spec details, sound evaluations, and some comparisons with other flagship 1DD IEMs that are in the same league.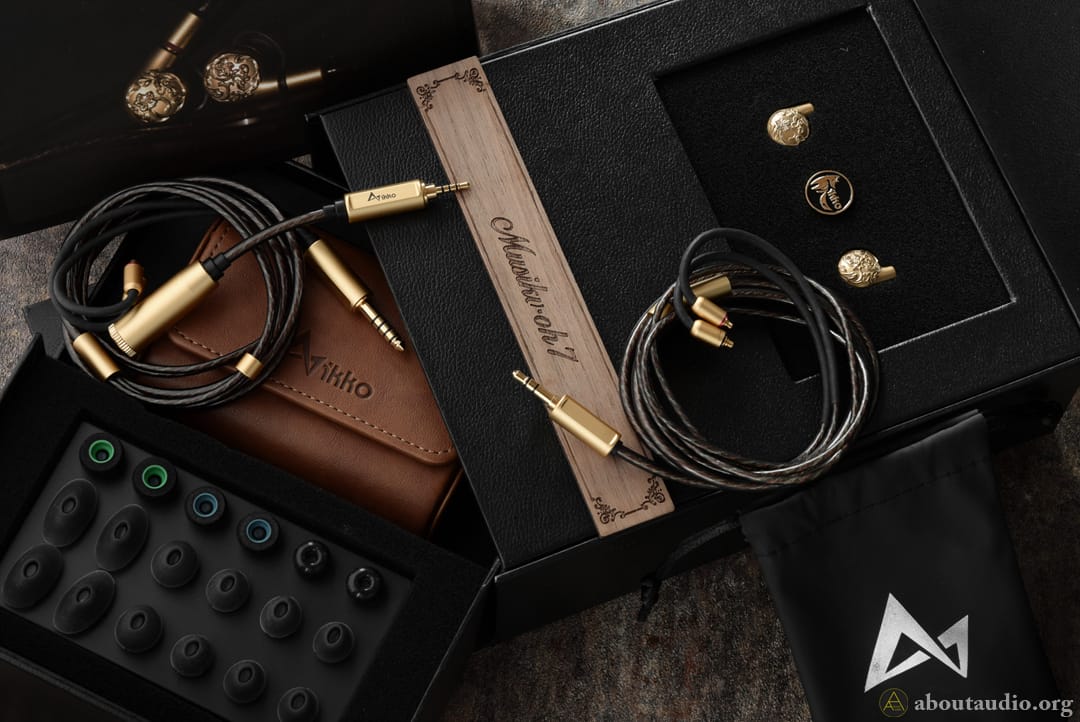 Packaging
OH7 comes in an urban packaging finished with black leather, golden Ikko logo on the left top, and a wood naming plate on the front. The sleeve in the middle includes an image of Musikv OH-7 along with spec and product details on the rear and the sides. Once opened, it reveals the earpieces surrounded in foams with an Ikko shirt badge sitting in the middle. Under that, there sit the accessories. Other than the earpieces, it includes a 3.5mm cable, a 4.4mm cable, a 4.4mm to 2.5mm adapter cable, a soft pouch, a hard case, 6 pairs of silicone tips, 3 pairs of i-Planet foam tips, and some paperwork.
The leather case is large and has a mesh pouch in it, so it is possible to store thicker custom cables or additional accessories. Ikko's i-Planet foam tips, which are also sold separately, have a shorter stem with a wider bore, leading the nozzle to sit close to the ears than casual foam tips. As a result, the sound would become more revealing, gain clearer upper frequencies, and reduced clarity loss/distortion compared to casual foam tips.
I find it quite enjoyable that they are allowing us to choose between three jack variables (2.5mm/3.5mm/4.4mm), but by providing another set of cable. Well, not fully separate since they included a 4.4mm to 2.5mm adapter cable instead of a whole 2.5mm cable, but it is certainly better than having to apply adapters to a single 2.5mm cable as some other brands do. I do wish the additional cable was terminated into 2.5mm instead (as it is my personal preference), but they made an understandable decision since 4.4mm has become the mainstream nowadays. Overall, the accessories included are very plentiful with all the necessities.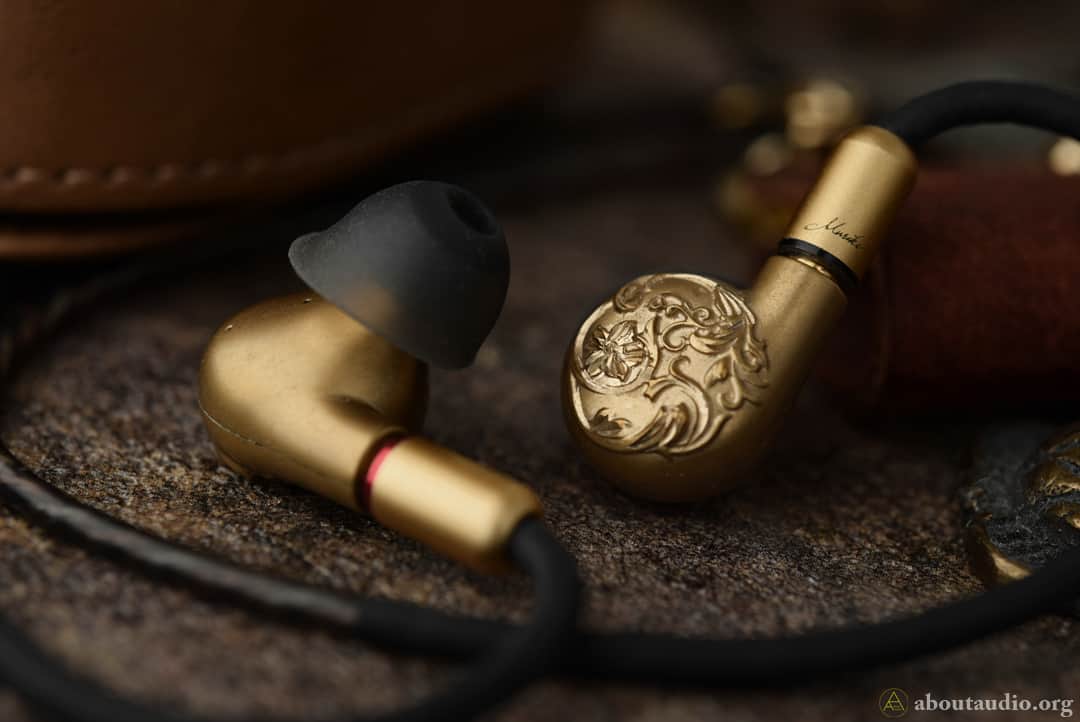 Earpieces
Not only Musikv OH-7 is Ikko's first flagship product, but it is also their first product to be using a single dynamic driver. Ikko incorporated Musikv OH-7 with their newly developed 10mm 90Ω carbon diaphragm. Though not just any type of carbon diaphragm but a super-carbon coating technology called Nano Carbon Vacuum Evaporation (NCVE).
Ultimately, NCVE diaphragm would achieve significantly higher carbon density and thinner yet sturdier membrane than CNT (Carbon Nano Tube) or CNF (Cellulose Nano Fiber) diaphragms. Its extremized carbon diaphragm, as Ikko introduces, is sure able to actively make most out of dynamic driver's advantages, which is the thick bass, yet with lightning-fast speed and adaptation, along with a treble performance that would even have a chance to stand against EST drivers.
To complete the tuning, Ikko chose to use a whole red brass for the cavity, which is then topped with marvelous craftings on the faceplate. According to Ikko, these craftings on each and every earpiece are hand-trimmed and hand-polished by jewelers, leading to a period of production where only 2 sets of Musikv OH-7 could be made in a week. Along with that, since the CNC machining cannot perfect the balance when it comes to chamber reverberation, therefore the inner sides are also hand-polished little by little, making it look more like brushing than polishing.
And as a final step, the inner surface of the shell goes through multiple coating processes and so does the outer surface, but with different coating where the surface goes matte. The earpieces are precisely assembled without particularly visible gaps and overall well-polished, though I do lightly see some less-matte spots every here and there. However, these are not visible unless watched up close and lighted up. Preferably, I even like it this way as it finishes its antique look – this is quite exceptional as I easily, and highly, get irritated with scuffs and dings.
The significant highlight from Musikv OH-7 is on its nozzles. Just as Klipsch's X series and Beyerdynamic's Xelento, Ikko went for the oval nozzle – simply because human ear canals are oval. Since that, all the stock silicone tips are shaped to be oval with asymmetrical umbrellas, just as similar to the eartips from Xelento (however not identical). Basically all other aftermarket eartips work fine with these, so no need for such worries. And before moving on, let us also briefly talk about the size and weight of the earpieces. Despite it being made straight out of pure brass, the cavity is quite on the smaller side, so the end result is just a reassuring weight, giving a good premium feeling in the hands but never going heavy as some high-end IEMs do.
Cable
As previously mentioned, Musikv OH-7 comes with 3 cables – a 3.5mm cable, a 4.4mm cable, and a 4.4mm to 2.5mm adapter cable. The MMCX connectors, the Y-split with its slider, and the plug are all colored to match the brass earpieces, completing that cohesive appearance. There also is a red rim applied on the right side of the MMCX sockets, both on the cable and the earpieces, to easily identify which side is which. Having quite a stout thickness, the stock cable is comprised of OCC mixed with silver-plated OCC, shielded with PVC composite that retains flexibility, durability, and resistance against oxidation.
In fact, unlike the way how it looks, the cable is very soft without a hint of springiness. The weight, as many would concern, is nothing exceptional – it does weigh slightly more than those typical thin cables, however the difference no close to a meaningful extent. Microphonics (touch-noises) is not an issue either as the skin or the shielding of this cable does a very fine job on this. I was not able to pick up any microphonics while playing the tracks and only some mild microphonics when worn with the music paused. Ikko introduces that the sound signature of the cable is meant to help Musikv OH-7 retain a smooth, thick signature but with precision.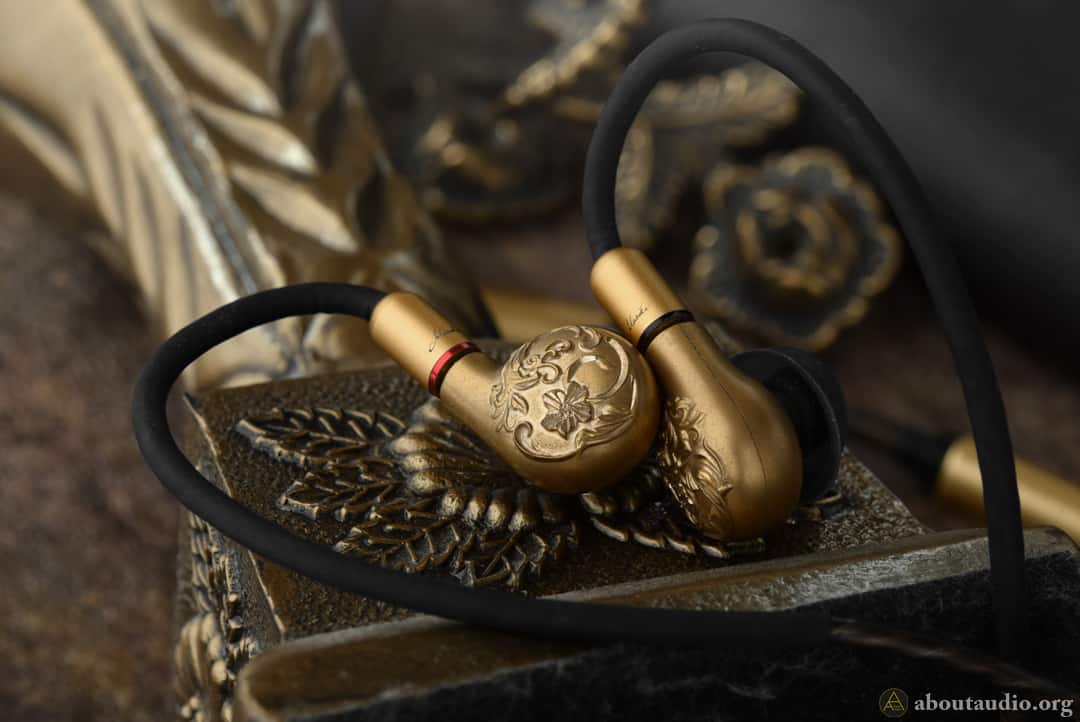 Sound impression – Lows / Staging
The size of the earpiece may be dainty but definitely not for the sound. Lows, as well as the overall sound, scale large and wide, having the headroom to exceeding far over its cavity. The size of the soundstage would match up with most flagship IEMs in general. Its pitch-black background makes the sound a lot more immersive and concentrated. I especially love how clean and quite the background is even from a 3.5mm TRRS jack.
Its depth expression is fabulous. The bass would drop far down to the point where ultra lows would have a full-bodied vibration. The rumbles are extremely smooth and refined that benefits clarity and consistency to the bass. Though these rumbles and reverbs are fully under-control in terms of positioning and intensity, holding down its strong presence on the lower part of the headroom.
I must mention that lows are not bloated to create such a huge bodied sound but already big in its original state. Hence lows are not watered-down and thoroughly packed in density. The bass strikes are meaty and smooth but not mushy – this was quite interesting for me as the lows with this much meat and deepness would very easily turn into a mush, yet OH7 did not. With a warm tone, this thick and dark coloring continues from the very bottom of the ultra lows to the upper lows where listening to the clean, thick bass grooves becomes one of OH7's charms. 
Sound impression – Mids
Mids would proficiently and gradually make a transition from the lows, sitting mildly closer or similar to the lows. Location-wise, mids are positioned higher than the lows – distinctively, but not drastically. This allows these two bands to achieve enough separation to draw clear boundaries without having them feel to be fully detached. Despite that, mids are still sitting on the middle area instead of lingering on the upper side, as lows were primarily positioned on the very lower side. As OH7 did with its lows, mids scale big and full. From here, the warmth will slightly tone down that allows vocals to gain a lush and cool breeze to its breath, boosting the transparency.
I was impressed with analyticity, which was done in a very seamless manner. Mids would create one big boundary of sound, but within that boundary contains numbers of layering where the end result is a coherent stream of vocals that involves characteristics that are highly spatial and lively. OH7 has a highly natural but palatable tone, not only on mids but throughout the spectrum. The thickness on mids is neutral-thick that mildly thins out as the vocals approach the upper mids. Since that, male vocals sound impactful and forceful while female vocals would keep an extra airy, light-footed attitude. In case the sound could have gotten only too soothing, OH7 would sprinkle some edginess as the sibilance area is managed to deliver crispy bites to the upper mids instead of spikes.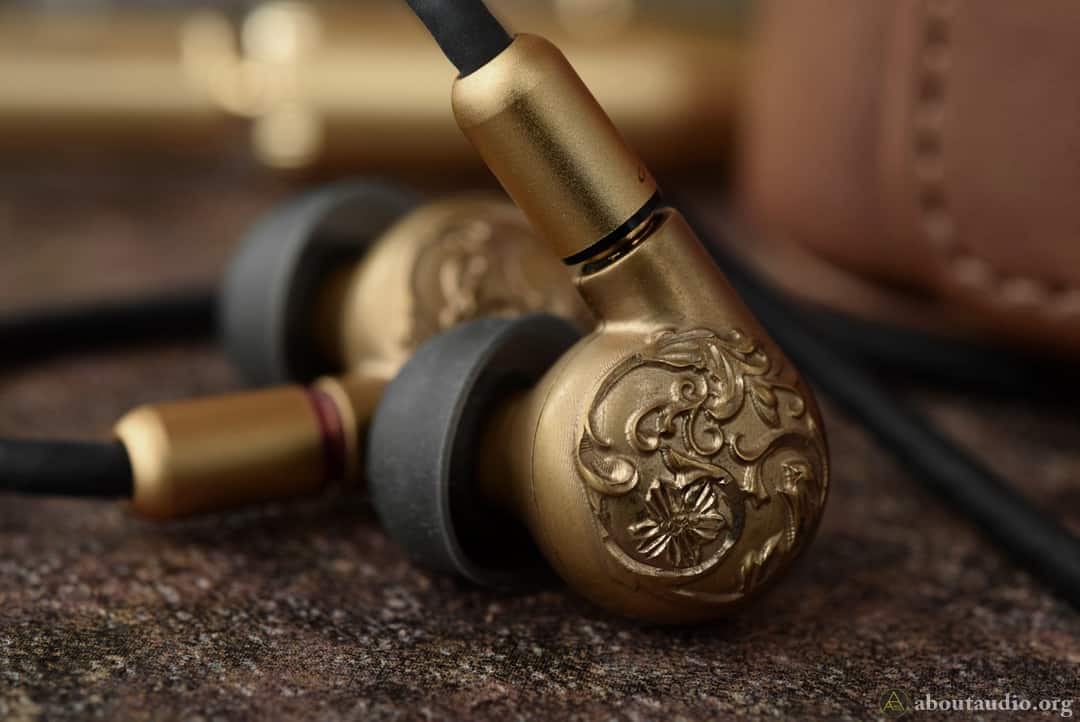 Sound impression – Highs / etc.
Always going smooth and warm would be boring, which is why highs would step in and spice up the atmosphere. Within the natural barrier, highs show a metallic, agile tone that brightens up compared to lows and mids. Since highs form a bright and cool sound, OH7's sound gains further dynamics and both-end extension. Treble response feels agile and would deliver a solid punch. Ikko audio introduced OH7 to be able to reenact the treble from an electrostatic-driver, which I was skeptical of the time, yet after spending some time listening to OH7 brought me to an understanding why they have made such statements – OH7's treble does resemble EST drivers to a certain extent – it was to do with its acoustic lines (or the sound ray).
Let me list some major characteristics of the treble from an EST driver. Breezy, airy, great extension/details, and highly refined strands of acoustic lines. Though we also need to keep in mind that not all EST IEMs go for a bright/vibrant sound signature as there are also those that sport a relatively darker/warmer signature (Shozy Pola, IMR R3 Halcyon, etc.) OH7 follows a similar path by achieving a breezy, fluffy atmosphere on the highs, and most importantly, knows how to finely take apart the acoustic lines into thin strands, resembling an impression that would often appear from EST IEMs. Separation is great as well. Without having the sounds flying around all over the place, they show clear distinctions between each other with no overdoing.
Comparisons
–FAudio Major-
For the low-end, OH7 produces bass that is heavier, deeper, and thicker. It is thick not only in thickness but also in color. The body is fuller and the slams are more impactful where the bass strikes the core of the head with more focus. OH7 also takes advantage in terms of density that makes the dynamics gluier. On the other hand, Major's low-ends are a bit slimmer and modest in quantity that produces ultra-low extension that is nearly good as OH7. Major desires a bass that has a more watery tone for the sake of transparency – but not loosen in density at all. The bass quantity from OH7 is plentiful enough to put it on the basshead-level while Major sports lesser quantity, maintaining the three bands highly balanced.
While OH7 outdoes Major in most aspects from the bass, Major takes the lead in many aspects once we shift to the upper ends. Mids from Major are slimmer but moister and finer in texture while OH7 has a fuller body, a higher rate of density, and a mildly crunchier texture. Vocals on Major takes a closer approach to the ears with more airiness and transparency, though not by a large margin. The same goes for the highs – Major pronounces them with more quantity and clarity while OH7 maintains just as good but with lesser quantity. Staging-wise, OH7 draws a huge headroom driven by the well-established low-ends while Major sets a plentiful enough of lows as the base and blooms the upper ends with airiness, creating a large headroom that is more subtle but balanced. Both IEMs show keen competition with their performances but in the end, it all comes down to different tastes and sound signature preferences. 
-Dita Audio Twins: Fealty-
OH7 tends to create sounds in a more creamy, smooth manner that heads its charming points to be the meatiness, yet it still does not leave out the crispiness in order to pick up the fine details. OH7 shows its undeniable superiority once dealt with the bass. Lows are significantly deeper, weightier, and most importantly, the ultra-low extension is a lot thicker in color. While Fealty performs nicely on the bass, the bass from OH7 that is simply outstanding, making you feel as if you have got back the ultra-low weightiness that was missing from Fealty. However, Fealty makes a come back at it by presenting the mids in a larger scale as well as being fuller in body. Fealty's mids are also a bit finer in texture with similar humidity. It is also placed relatively closer to the ears with more openness.
However, the peaks (or the turbulences) are better handled on OH7, creating a smoother and comfortable environment. Crispiness and airiness are visibly more highlighted on Fealty, making its unique rigidity to become one of the charms. Also, since the airiness, Fealty carries stronger transparency and upper-end intensity that serves to add cool freshness to the atmosphere. OH7 is warmer and calmer when dealing with upper mids and highs, yet the details are not devoured by the bass and would still present a decent amount of freshness and transparency. As expected, the staging is larger and grand on OH7, especially due to the large gap happening from the bass. Looking as a whole, OH7 takes the advantage here. However, if a calm, mildly-flat delicacy is what you are looking for, Fealty could turn out to be a better solution.
-Acoustune HS1695-Ti-
First off, these two show differences in forming their atmospheres. In the case of OH7, it is presented slightly warmer (within the neutral range), darker, and thicker in color. This also guides the dynamics to gain viscosity and depth, making the mood bolder. HS1695, on the other hand, shows a better concentration on clearness and cleanness. The sound is more breathable (or open-air) and transparent, producing the dynamics in a way where it achieves deep and bold enough impressions but not leaving any "residues" as it decays. Ultimately, the aftertaste is kept cleansed all the way. Quantity-wise, OH7 achieves more bass or the low-end fullness while HS1695 shows better transparency and upper-end wideness – however, I would like to state that this does not mean HS1695 falls short in bass performance.   
Speaking of bass, let us now compare those as well. While HS1695 shows lesser quantity and reverbs than OH7 (roughly about 25%), HS1695 reaches nearly as deep as OH7 if not both achieving just as deep extension towards the ultra lows. Though the differences are that OH7 goes thoroughly full and rich while HS1695 prioritizes the neatness or the "reference-style". To get specific, a plentiful amount of reverbs and thickness take place from OH7 which are fully under control, giving booming impacts that are stronger and larger. HS1695 is reduced in reverbs but instead gained with faster strike & decay along with higher density, which all of them lead to superior clarity. The situation on the upper ends go similar as they did with the atmosphere – vocals from OH7 are fuller and warmer while the ones from HS1695 are brighter and tighter. Since that, the trebles from HS1695 are of course crisper and pronounced with more quantity and airiness. Though in fact, the penetration and speed from OH7 are almost good as HS1695 – it is just that HS1695's trebles show stronger density and transparency. 
Verdicts
They say a quality bass is harder to achieve than to do with the treble when it comes to audio tuning. In a neat manner, OH7 thoroughly brews the sound with its deep, cleanly resonant bass response, followed up with water-like, neutral, and delicate upper ends. Perhaps this could be the reason behind why OH7 makes the instruments sound absolutely beautiful – since OH7 itself generates the sound like a piece of instrument. OH7 sensuously and elegantly draws the music where its sound may come by to you in an easy, placid manner that soon grasps you stronger and stronger as you gradually discover the adroit charms. If deep bass, grand headroom, and emo highs are the types of your taste, this little piece of in-ear instruments will be your must-have.
---
RELATED REVIEWS
IKKO OH1 Meteor     IKKO OH10 Obsidian     IKKO ITM03 Zerda
Thanks to Ikko Audio for providing Musikv OH-7 in exchange for an honest impression/feedback. I am not affiliated with Ikko audio and none of my words were modded or asked to be changed.
Pros
Gigantic imaging
Deep, strong bass with lush upper ends
Hand-polished cavity and faceplates
Small and ergonomic earpieces
Variety of quality accessorise
Cons
Bass may be strong for some
Earpieces require some care while treating
Not meant for those into flat/bright sound