Campfire Audio Solaris Stellar Horizon Review: Solaris Revolution
The renowned IEM workshop from Portland USA, Campfire Audio has brought a major change to its flagship line-ups. The announced are the three new flagship IEMs which are Solaris: Stellar Horizon, Andromeda: Emerald Sea, and Trifecta: Astral Plane. In this review, we'll be reviewing Solaris Stellar Horizon.
The Solaris Stellar Horizon is a tune-up of the Solaris line-ups and would be the 3rd generation Solaris if excluding the special editions. Solaris Stellar Horizon has gone through significant, if not the most drastic changes among Campfire Audio products – both by the looks and its features. Let's see what has changed and how it compares to other high-end earphones, including the Solaris 2020. The Solaris Stellar Horizon is priced at $2670.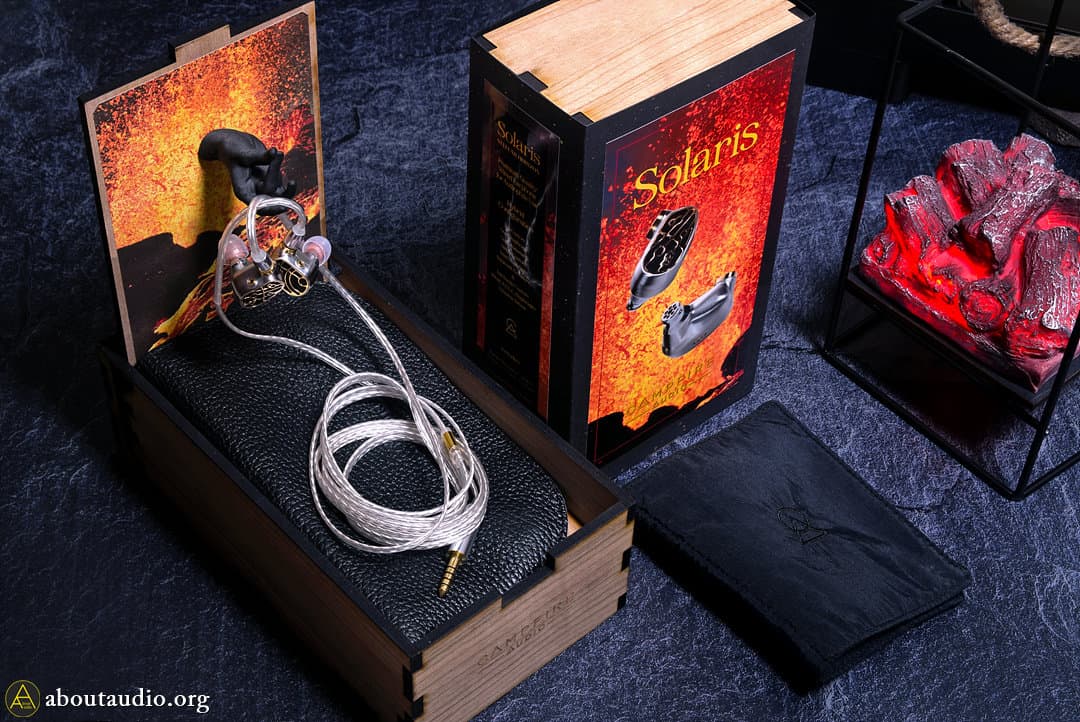 New Wood Packaging and Displays 
Campfire Audio has gone through a complete revamp with their packaging and things got a whole lot better now. With an eye-catching cover sleeve that displays an image of the earphones, The packaging is made of natural wood that also serves as storage and a display box. Once opened, the lid locks up perpendicular to the wooden box. The lid has an iconic earphone holder that resembles a hand, hence you could nicely hang the earphones on it. Each model has different hand shapes and colors which gives uniqueness to each of them.
The accessories have changed entirely. Solaris Stellar Horizon comes with a Dimensional Leather Folding Case, 3 Timestream Cables (2.5mm, 3.5mm, 4.4mm), Ripstop Cable Pouch, 3 pairs of Campfire Marshmellow foam tips, 3 pairs of silicone tips, a cleaning tool, a CA Lapel pin, a pair of mesh bag, and a documentation folder with some paperwork.
Full Metal Jacket Earpieces
Other than the basic form factors, Solaris Stellar Horizon has changed in every way with its looks. The earpieces now sport a brushed stainless steel chassis with a new, iconic faceplate design. The faceplates are finished with gold inlays on top of black, laser-cut acrylic. They look more premium in the looks and feels. I also much appreciate the design concept of the faceplates. The black acrylic base for the faceplates resembles space while the gold lines represent orbits and circular inlays for the stars and planets. Besides, for those who may not have noticed yet, the design of the gold inlays is different for each side.       
Solaris SH uses the classic 3BA+1DD setup as they've been presenting on their Solaris series – yet applied with top-to-bottom changes to driver treatments. First is the balanced armatures. The new custom BA drivers are installed with dual-diaphragm and Radial Venting, which Campfire claims to achieve more output in general, stronger treble extension, and less distortion. The Radial Venting technology has also been applied to the new 10mm ADLC dynamic driver, creating greater air volume and allowing the driver to utilize more space within the chassis. The IEM connection is done as MMCX as usual and styled with gold rings for the MMCX ports.     
The new metal chassis has not only become more beautiful but also much easier to fit. The previous Solaris series caused me limitations on which eartips I could use yet I can tell Solaris SH has now become very cooperative with our ears. The IEMs have a 4.40 Ohms impedance which makes is prone to some audio source to gain white noise to the background yet not critical. However, it's important to be aware if you or your setup is sensitive to white noise.   
Three Time Stream cables
Campfire has also introduced a new stock cable called the Time Stream(s). Solaris Stellar Horizon comes with three Time Stream cables, which are all MMCX terminated but with different audio plugs – 2.5mm, 3.5mm, and 4.4mm. The silver-plated copper wires are insulated individually which gives a flat look like some old electric cables we've seen back then. However, Time Stream cables are soft enough that it doesn't cause microphonics or stiffness.
It's truly commendable that Campfire has included three identical cables with different cable terminations. Some may say "Why not just use a modular plug?" From a technical aspect, avoiding modular plugs and sticking with the classic one-termination cable is better for audio quality. From a realistic standpoint, it could've been that it's easier to just offer cables in every single termination than designing a modular plug that is reliable and convenient. Anyhow, from a user's perspective, I'm happier with three cables than one. Kudos to Campfire Audio for not abandoning the 2.5mm termination.
Sound impressions: Lows
Solaris SH has a vibrant w-shaped sound signature with an emphasis on clarity. Tipping toward being slightly v-shaped, lows don't really get bombastic or strong in terms of quantity. The bass is only gently boosted yet it delivers a strong punch and strong presence throughout the music. Solaris SH makes dead sure to present the bass clear and bold. The ultra-low extension is clear and distinctively pronounced within the music. The drum kicks are tight and deliver weighty thuds.
The reverbs are also done only to a gentle extent. That doesn't mean the bass response is weak, however. Campfire Audio chose accuracy and cleanliness rather than boominess here. I like how the bass is al-dante in texture, retaining both rigidity and naturality. This means Solaris SH is able to properly reproduce both the metallic, rock-solid texture and the soft "dynamic driver-ish" texture. The high-resolution bass grooves and a lively timbre overall offer a clean aftertaste. The low-end quantity would sure not be enough for bassheads that need a strong bass slap in the face, though if you enjoy just the right amount of bass, Stellar Horizon will serve you well with its organized lows.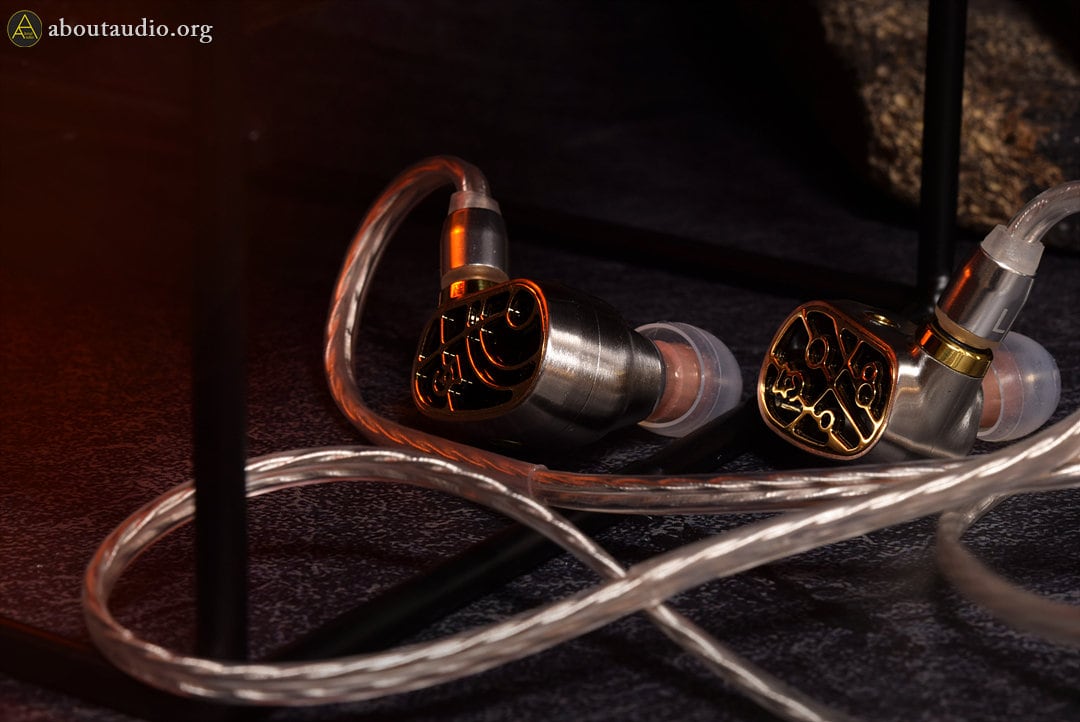 Sound impressions: Mids
With an up-close presentation, the vocals of Solaris Stellar Horizon extrude vibrant clarity and transparency. I find the vocals of Solaris SH to be quite interesting. It's different from the typical hybrid IEMs I've been listening to. Vocals are much more cohesive in both timbre and texture. The bright-sweet tone offers a generous amount of airiness and openness. The texture is very fine and silky but doesn't sound off in tone is one of the major pros of Stellar SH. The analyticity is high yet the texture doesn't get dry or unorganized. The vocals are damp which allows the vocals to stay both silky and smooth to listen to.
It's commendable that Solaris Stellar Horizon hit the exact sweet spot in terms of vocal temperature and vibrancy. Mids maintains a cool and refreshing tone but not harsh or cold – or should I it's a s before it gets cold. However, this also means that Solaris SH is playing a risky game here. If paired with an incorrect player source, cable, or eartips, the IEMs are vulnerable to sounding harsh and spiky on the mids.
Solaris SH is sensitive to these changes (especially for the eartips), hence it's crucial to have the right eartips for these. I'd personally discourage using the stock eartips as they, unfortunately, don't offer the full potential of the IEM and are also inconsistent with the fits. Alternatively, I suggest using SpinFit W1 of Final E-Type tips.
Sound impressions: Highs, etc.
Solaris SH is a fine example that you don't need a bunch of EST drivers to offer a killer treble performance. The highs of Solaris SH are extremely detailed and clear. Treble performance is not just about spitting out details loudly but also about accuracy and staying in control. Solaris SH perfectly takes control of the high inflow of treble details, keeping them organized and natural in tone. Quantity-wise, Solaris SH makes sure to have the highs amplified enough for me to tune into its high-resolution texture, but not overpowering. Highs don't take away the attention of the music but stay very harmonic with the music – both in quantity and timbre.
Trebles of Solaris SH offer more airiness and resolving tone than the mids, giving an open-ended atmosphere towards the sky. Interestingly enough, Solaris SH has the agility and sharpness that highly resembles EST drivers. The treble strands are distinctive and well-defined, adding the pleasure of finding new treble textures and details from the music I'm used to listening to. The density is also high enough that give body and impact to the trebles. In terms of soundstage, Solaris SH offers quite an expansive and three-dimensional headroom. The "open-ended" atmosphere generated on the mid-highs makes Solaris SH even wider – as if the horizon is limitlessly far. Perhaps the name Stellar Horizon?
Next Page: Comparisons with Flagship IEMs